Hydrolyzed Fish Collagen For Food
NovoKolla Hydrolyzed Collagen use Tilapia fish scales and skin as raw materials, is produced by using the company's self-developed patent. We use the modern biological engineering and enzyme oriented shear technology to produce the hydrolyzed fish Collagen which mainly contains oligopeptide.It is white or light yellow powder, high purity, no fat, no sugar and no additives. Health indicators comply with the state regulations, and the product has a high biological activity and safety.
Collagen is a triple helical protein which can be considered as the bio-glue inside our body; in fact, animal glue can be obtained by boiling the animal skin. Collagen, a major component of connective tissues, exits in the extracellular space of these tissues which are the key reinforcing and bonding materials for all tissues and organs throughout our body, forming rigid structures as such bone, semi-rigid tissues such as cartilage, or soft tissues such as muscle, tendon, skin, ligaments, and cell membranes, etc. There are different forms (fibrillar and non- fibrillar) and types of collagens in the body; Type 1 being the major type constitutes over 90% in our body and is the major component in skin, tendon, vascular ligature, organs, bone (main component of the organic part of bone). Because collagen is an essential building material of all tissues and organs, it has many medical uses, such as in cardiac (hear) applications, cosmetic surgery, bone grafts, tissue regeneration, reconstructive surgical uses, and wound healing care.
NovoKolla® Hydrolyzed Collagen for Food
The product`s average oligopeptide molecular weight is 1000Da or 500Da.It can be directly absorbed by the human digestive system to participate in a variety of physiological activities. It can delay aging, improve skin, protect bone and joint health, strengthen the immune system and other physiological functions. Variety of raw materials is single, just fish. This product is easy to dissolve, excellent performance of solubility, high temperature resistance, wide range of pH applications, good flow ability, and suitable for all types of food, health products processing, can be widely used in health food, functional food, beverage products and the other food.
Features of NovoKolla® Hydrolyzed Collagen
1. No contamination, no glucose and fat, no artificial additives
2. High thermal stability with wide range of PH
3. Low-molecular, easily to be absorbed
4. Variety of products plus customization to meet customer`s need
5. Excellent solubility and fluidity, rapid dissolution
6. High compatibility, natural products with no added pigment and flavor
NovoKolla Hydrolyzed Collagen Specification
Type

Sources

Average molecule weight

Applications

NovoKolla MCF-500-01

≤500Da

Easily absorbed, good for functional food

NovoKolla MCF-1000-01

≈1000Da

Health care products and ordinary food

NovoKolla MCF-1000-02

NovoKolla MCF-2000-02

≈2000Da

NovoKolla MCF-3000-02

≈3000Da

Good taste, suitable for ordinary food demanding for taste

Customized granulation products

500, 1000, 3000 Da

Uniform particles, excellent liquidity, fast dissolving, good for solid drink products

Type

Sources

Content of Chondroitin sulfate

Applications

NovoKolla CCA-30

Chicken breast cartilage

30%

Health care products and functional food demanding for joint protection

NovoKolla CCC-10

10%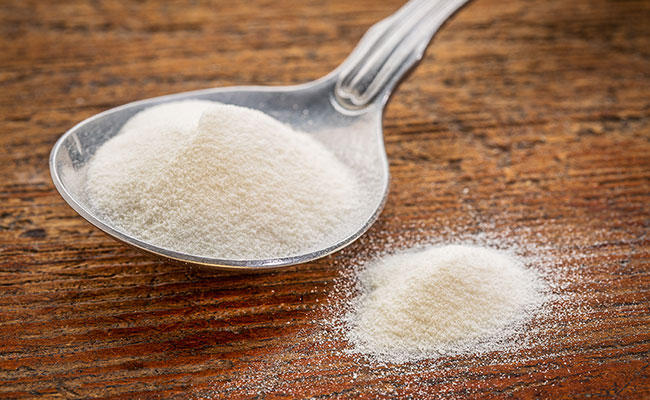 Looking for ideal Food Grade Fish Collagen Manufacturer & supplier ? We have a wide selection at great prices to help you get creative. All the Food Grade Hydrolyzed Collagen are quality guaranteed. We are China Origin Factory of Food Grade Hydrolyzed Marine Collagen. If you have any question, please feel free to contact us.
Product Categories : Collagen