Natural Sweetener Stevia Extract
Stevia Extracts are novel Sweeteners – a combination of several sweeteners of natural origin. The major ingredients in Stevia Extract are glycosides, molecules that contain glucose and other non-sugar substances called aglycones. The tongue's sweet taste receptors react to the glucose in the glycosides, thus those with more glucose (e.g. rebaudiosides) taste sweeter than those with less (e.g. stevioside). Some of the tongue's bitter receptors react to the aglycones, thus the ultimate taste of Stevia glycosides depends on the ratio between the glucose component and the aglycones component of a particular glycoside. The taste profile of Stevia glycoside is different from sucrose – slower onset, longer lasting, and often with a bitter after taste. In general, Stevia extract glycosides are about 150 to 250 times sweeter than sugar. These glycosides are stable at elevated temperature and under moderately acidic or basic conditions, making them suitable for use in a variety of heat processed foods and other products.
When ingested into the digestive tract, rebaudiosides are metabolised into stevioside which is broken down into glucose and steviol. The glucose released in this process is used by bacteria in the colon and not absorbed into the bloodstream, thus it does not contribute to any significant calorie intake. The metabolite Steviol cannot be further absorbed and is excreted as is.
The legal status of Stevia Extracts varies from country to country. The purified rebaudiosides and steviosides are normally considered GRAS (Generally Recognized As Safe) materials in the US and they have been approved for many uses in EU and Japan.
At Sunshine Biotech, we supply customers with a range of high quality Stevia glycosides and blends, catered to the unique requirements of our customers.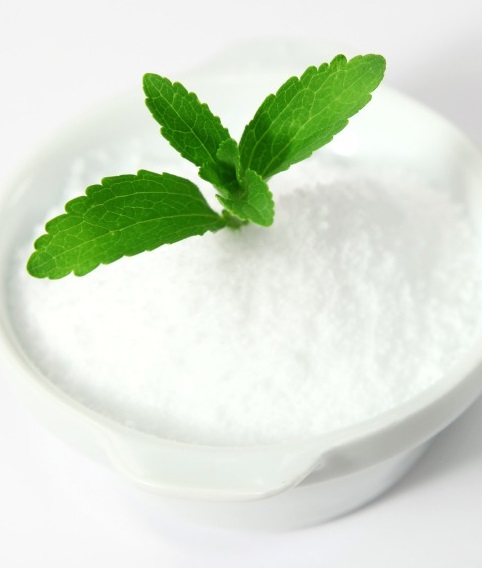 NovoSweet Stevia full List:
Type

Description

TotalSteviol Glycosides (%)

Reb-A (%)

Sweetness Level (times)

Packing Details

TotalSteviol Glycosides Series

TSG 95%

≥95

≥60

300

10KGS/BAG, 20KGS/CTN

Outer packing: Carton

Inner packing: Two layers of PE bags

TSG 90%

≥90

≥25

280

TSG 80%

≥80

≥25

220

Rebaudioside A Series

RA 99%

≥99

≥99

>450

RA 98%

≥99

≥98

450

RA 97%

≥98

≥97

420

RA 95%

≥98

≥95

400

RA 90%

≥95

≥90

380

RA 80%

≥95

≥80

360

RA 60%

≥90

≥60

320

RA 50%

≥90

≥50

300

RA 40%

≥90

≥40

280

Stevioside series

STV 95%

≥98

≤1

320

STV90%

≥95

≤2

300

STV 80%

≥90

≤5

280

Enzymatic Modified Stevia series

E.M.Stevia 95%

200

E.M.Stevia 90%

180

E.M.Stevia 85%

150

E.M.Stevia 80%

110

New products

RB5%~95%;RD5%~95%;RM5%~95%
Looking for ideal Total Steviol Glycosides Sweetener Manufacturer & supplier ? We have a wide selection at great prices to help you get creative. All the Stevia RA Stevioside Sweetener are quality guaranteed. We are China Origin Factory of Stevia Rebaudioside A Sweetener. If you have any question, please feel free to contact us.
Product Categories : Sweeteners > Natural Sweeteners